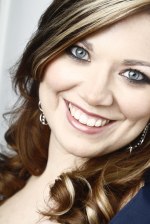 The Swedish soprano, Anneli Lindfors, was born in Stockholm, Sweden.
Ms Lindfors has been studying at the University College of Music Ingesund, The Stockholm Opera studio 67 and The University College of Opera in Stockholm where she graduated in 2010.
Prior to her education at the Opera Academy she had an extensive training in working as an ensemble member at the Wermland Opera and Folkoperan in Stockholm.
She made her debut as Sieglinde in Wagners "Die Walküre" in the critically acclaimed production of "Der Ring des Nibelungen" at the Wermland Opera House 2011 where she also performed as Wellgunde in "Das Rheingold" and "Götterdämmerung" and Ortlinde in "Die Walküre".
She made her international debut as Jenufa at the Theater Magdeburg in the autumn of 2011. In the same season she sang her first Agathe in Der Freischütz.
Among the numerous scholarships and awards she has received, the following can be mentioned: The Swedish Wagner Stipendiumstiftung scholarship 2010, The Anders Wall Confidencen Grant 2010, The Ruud Wallenberg Grant, Norway and The Royal Academy of Music Grant in Stockholm. In the summer of 2010 she was on of the lauriates in Barbara Bonneys masterclass at the International Summer academy, Mozarteum, arranged by Salzburger Festspiele.
Anneli Lindfors received the honorable Birgit Nilsson scholarship for young singers 2011, and she was one of the six finalists in the International Singing Competition for Wagner Voices held at the Badisches Staatstheater in Karlsruhe 2012.

In the beginning of season 2013 Anneli returned to Magdeburg where she sang Helena in Britten's A Midsummer Night's Dream and Antonia in Les contes d'Hoffmann, and in the summer of 2013 she maked her debut with great acclaim as Freia in Das Rheingold at Dalhalla. In 2014 she